An innovative way to appreciate the old and modern Dubai is to take a tour of the creek by the traditional wooden dhow. See the beautifully lighted heritage land mark buildings, and the busy commercial shops, the big dhow berthed to load cargos, the old and modern water taxis running across the creek …all these can be enjoyed only from this waterway tour. What could be more romantic than dinner on board in a dhow as it slips silently along the Dubai creek in the moonlight. Appreciate a different view of this amazing city – a portrait of the true features of life in Dubai.
Pick up + Drop off ,Welcome Drink , Mineral Water ,Soft drinks ,Tea + Coffee 5 star international buffet Fusion Music (Creek Only)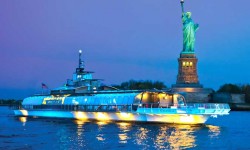 Cruise down the enchanting Creek under the starlit sky in the glass enclosed, air- conditioned comfort aboard the...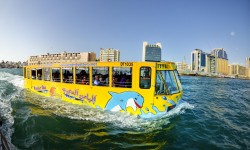 The Wonder Bus is an amphibious bus. It is a brand new state of the art vessel, approved by UScoast guard and Emirate...